17/03/11
I'm sad to say that the new tank is still very much a work in progress! Its been fully cycled for some time now but we're going through the horrible algae bloom stage. We've moved a couple of fish in for now and will wait to move the seahorses until the bloom has died down.
Here are a couple of pictures of the tank before the bloom set in. I'll take more pictures once its gone.
I really love the branching coral. I almost wish that I got a couple of these and I would do away with the LR.
30/12/11
Well, we got all the bits and pieces that we needed and finished all of the plumbing. After testing the weir we then proceeded to fill the tank up and found a couple of leaks from the pipes connecting the standpipes to the sump, so we re-siliconed and had to wait another 24 hours before we could test it again. Job done! No more leaks! Phew! So, salt was added to bring the water up to 1.024 and then 24 hours later the live rock was added. I still need to add live sand so this cycle is going to take longer than anticipated but I have an idea of how I want to design the rock work. I have seen a tank that was at a show recently which I am going to try and replicate. I'm quite excited!!
The top of the tank has plates on it, which I absolutely love. It needed to be covered because of the curious cats! These are great and very well made.
Filling up the tank...
23/12/11
One things for sure - getting this tank up and running is taking much longer than I would have liked. I was hoping we would be able to get all the plumbing done in one day. No chance! We've managed to get the standpipes in place in the weir. The pipes feeding the sump were too big so we had to search around for pipes that would fit. You wouldn't believe what a task that was! I think we visited 4 or 5 hardware stores before trying our LFS who were able to help us. In my excitement at finding the right size pipes, I totally forgot to get a length of tube for the return from the pump (which was also the wrong size). Off I went back to the LFS yesterday, picked up my tubing, which wasn't a perfect size but it will do for now - and forgot to get clamps, even though the chap actually told me that I would need them. So, my task today is to fight with all the Christmas shoppers to get my clamps so that I can finally get the tank filled with water today (God willing!!!!!). Mind you, I still have shopping to do too....aaaagggghhhhhhh!
Anyway, here are some pictures of the tank as it is at the moment so you can see how our work is progressing.
14/12/11
Its here! Its finally here and I love it! I was starting to get worried that it would over power and dominate the living room but it doesn't. It looks perfect and whats more, somehow I managed to almost choose the exact same wood as my husbands tank. They look great together. Here it is, what do you think?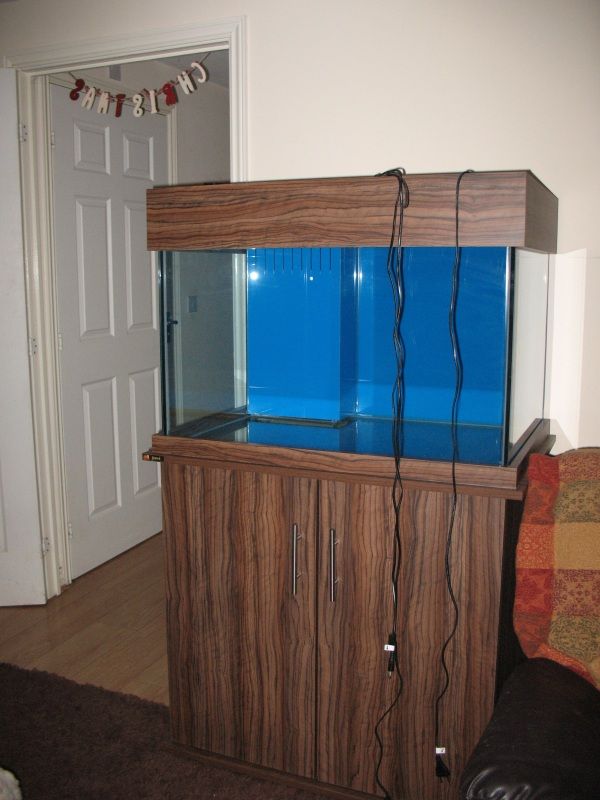 Its going to take some getting my head around all of the plumbing and I'll probably start on it at the weekend just to make sure that I've got plenty of time and don't rush things. In the meantime, the boy and girl seahorses are all back in the same temporary tank which can only spell one thing.....T.R.O.U.B.L.E
29/10/11
Apologies for my slackness! The new tank is ordered and should be here in 4 - 5 weeks. I'm so excited about it! Total volume is going to be around 100 gallons; tank 65 and sump 35.
22/10/11
Off to Cov Aquatics to order my new tank tomorrow.....so excited!!!
16/10/11
Well, we finished rearranging the living room this weekend and the final layout doesn't really allow for as much space as I had hoped! Its going to be a bit of a tight squeeze but I think my dimensions are going to be 34x24x22. That makes for almost 65gallons, plus a sump of around 20 gallons. I'm going to take a couple more days to think about it and talk it through with Ron and then I'll put the order in later this week.
Well, its a long time coming, but the wheels are finally in motion! I met up with Robin from Coventry Aquatics at the weekend to discuss the build. I also got to see the new RSM-500 in person, and what a tank that is! Cov Aqs are the only place in the country to have this system and I have to say it is very very impressive.
This weekend, we will be rearranging our living room and then I can take some measurements so I know what dimensions the tank can be. I had originally been thinking about a cube, but after seeing one in person I have changed my mind. Whilst beautiful, I think they are just a bit too bulky and will dominate our living room in a negative way. The height would also mean that I would probably need a step ladder every time I needed to get in the tank! So, oddly enough, my thoughts are now on getting a long and quite narrow tank....but I'll probably have changed my mind in a few days. Who would have thought that deciding on measurements could be so difficult!
The other thing that I am thinking about right now is the sump. I want to make sure that I get this 100% right so that I absolutely optimise it for the best possible use/filtration. That said, I don't fully understand all of the different options and combinations so its something that I am trying to think about quite a bit. What I do know is that I want to use one of the compartments as a fuge with live macro, and possibly sand.
In recent months I have started to experience problems with my tank and I think the cracks have started to appear because of me pushing the bio-load boundaries. Following the death of my remaining female H.barbouri, and various other problems, I have taken the drastic action of removing all of my adult seahorses from the tank and moving them to a bare bottom temporary tank.
Although I have been keeping seahorses for many many years, I have grown as a keeper in the last couple of years since moving in with my husband and making some very dear friends on Seahorse.org who have been very generous with advice and support. With their help, I want to build an aquarium that not only looks beautiful but that satisfies their requirements 110%.
This page is going to be dedicated to the set-up of my new tank (which I have yet to purchase).