18th June 2012
I couldn't be prouder of my two Maine Coon cats after the show in Lutterworth this weekend. Tango was the most promising of the two but really didn't enjoy himself very much and so when he was being shown his ears were down and he was pretty scrunched up. He managed to get EX1, and just missed getting CAP by a few days - next time!
Harlequin, on the other hand, I didn't expect to do very well as she's an extremely feisty, vocal young lady. She was happy to let everyone know she was there and be as vocal as she could, but considering it was her first show, she handled it quite well considering. She finished the show with her EX1, CAP, BIV and won the Best Neuter side class. All of the judges that saw her said how beautiful she is and that her coat is a perfect example of a good tortie!
We also took along a little 7 month old girl who belongs to our breeder. What a couple of days she had! I think she is going to go on to be an outstanding show cat. On Saturday she got her EX1, BIV, and was nominated. On Sunday she got EX1, BIV, nomination and BIS for her category.
Here are some pictures from the last couple of days.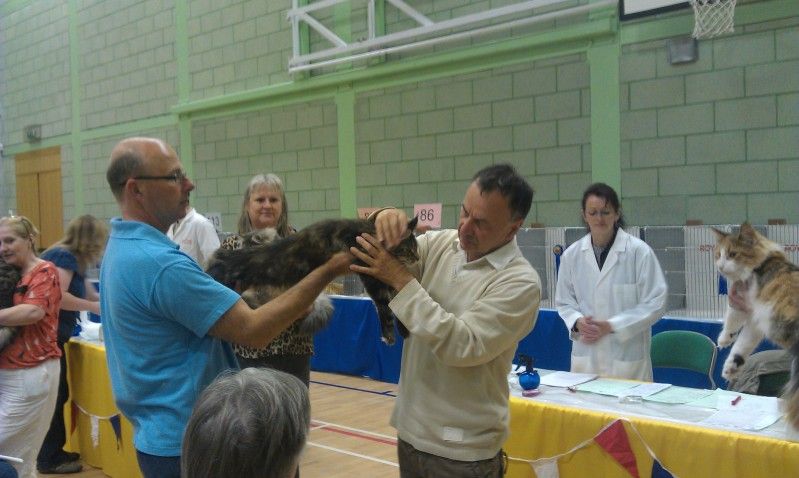 Shanty - Aren't I beautiful!
Little Shanty taking it all in her stride
Its a hard life!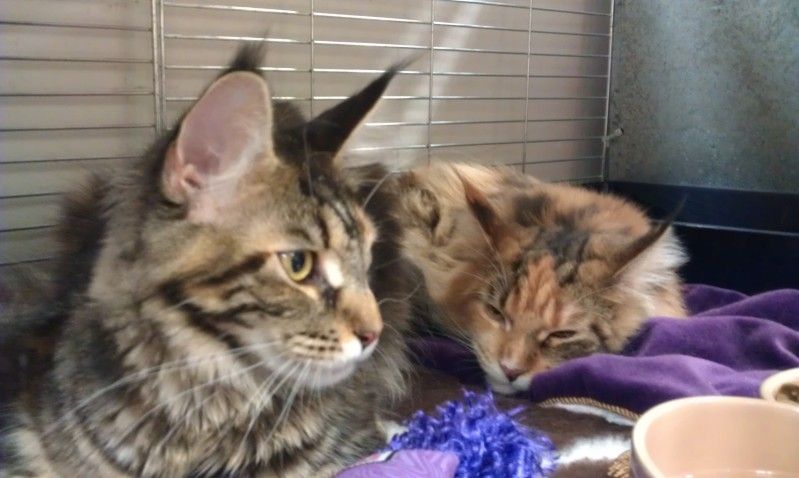 Harley's turn to be exhausted!
Harley's rosettes....
***
As well as the fish, we also have 2 dogs and 4 cats.
Bruno is a 4 year old Miniature Pinscher - a little dog with a huge personality who thinks he is the biggest dog in the World!
Harvey
is a 4 year old Old English Sheepdog and is my baby! I'm sure I treat him too much like a little person! I think I am going to do a blog about Harvey, but haven't quite decided yet. He suffers from demodex and dermatitis. Its been a horrible struggle for us which is an ongoing battle. He's doing ok at the moment and I just pray that he continues to do well. He's a regular at the vets, and they all know and love him!
This is Bug, isn't she beautiful! She's a got a little bit of "we're not quite sure what" in her. She's the most dainty little girl there is and kind of walks as if she's on a catwalk!
The two crazies, as we call them, are our little kittens Harlequin and Tango. Actually, calling them little is a bit of a joke really. At only 7 months old, they are already significantly bigger than Bug.
13 weeks old, the first week here with us
They soon grow up!
Tango, appreciating the sun!
Harlequin, such a pretty girl, but so much trouble!!
I'm hoping to show both cats. Tango has already been to one show where he got EX1 for his category and had some lovely, positive comments from the judges. So proud!